DOWNLOAD THE GUIDE
Buying equipment can get complicated. What should you buy? Should you finance or pay cash? What do you look for in a financing partner?
This comprehensive Guide to Equipment Financing gives you practical advice and insight and helps take the guesswork out when considering your financing options.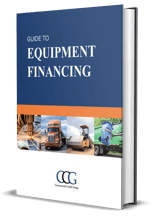 The guide discusses everything you need to consider before deciding how to finance your new piece of equipment.
The guide includes:
Buying New or Used Equipment
Understanding Equity and Market Value vs. Book Value
Choosing an Equipment Finance Partner
How to Get Started