The prices of new and used equipment have been rising for the past couple of years, nearly in every industry. But we've seen significant increases for transportation equipment. In fact, a dry van trailer that cost $35,000 two years ago now costs around $48,000. That's a 31% price increase! Talk about sticker stock!
With costs on the rise, it's more difficult than ever to get the equipment you need to expand and grow your business…especially if your cash is tied up in other monthly obligations.
With increases this significant, how can you afford to purchase new equipment?
Consider refinancing your existing equipment.
What does refinancing existing equipment have to do with buying new equipment?
Refinancing existing equipment can help you improve cash flow, and allow you to finance new equipment with not down payment, essentially providing you with 100% financing for your new acquisitions.
We'll break down the numbers.
Let's say you want to purchase five new dry van trailers. At $48,000 each, the total purchase price would be $240,000. That amount, financed over five years (60 months), is approximately $4,880 per month.
Now, let's say you financed three new trucks three years ago for roughly $145,000 each. Your loan would have been $435,000 total. If you financed them for five years (60 months), your monthly payments would be approximately $8,850.
At this point, you will have paid off just over half the loan and have a remaining balance of approximately $200,000.
If you add the new payments for the five dry vans ($4,880) to the original payments for the three trucks ($8,850), your total monthly payments equal $13,730. You've added 55% to your monthly payments to purchase the new dry vans, and you have two loans to pay.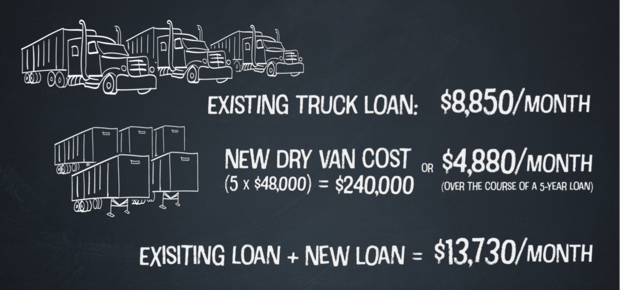 This is where a refinance comes in (a.k.a., where the magic happens!).
Instead of simply adding a new loan for the dry van trailers to your debt load, you can refinance the original three trucks and combine it with the loan for the trailers. Doing this not only will reduces your total monthly payment, it leverages the equity in your existing trucks so you don't need cash for a down payment on the new trailers.
How does this work?
Combining the purchase of the trailers and a refinance of the original trucks gives you one loan for a total of $440,000 ($240,000 for the new trailers, $200,000 remaining balance on the trucks). Financing that amount for four years (48 months) gives you a monthly payment of $10,750. That's $2,980 less than combining the two loans.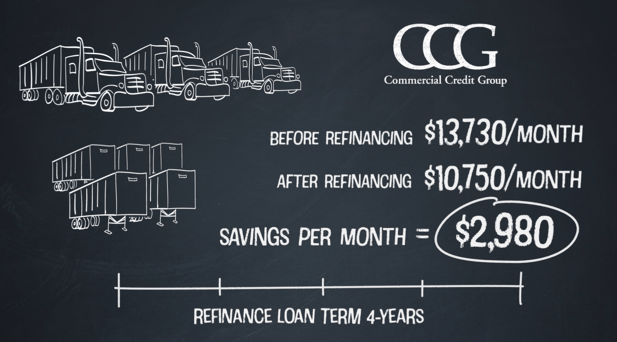 As you can see from this example, refinancing ­equipment can have a major impact on your cash flow, allowing you to free up cash for new equipment and invest back into your business.
Need help determining if a refinance makes sense for your business? CCG can help! Watch the Sticker Shock video and complete the contact form. We'll get right on it.