WasteExpo is getting back to business this year - the live, in-person conference is scheduled for June 28th - 30th in Las Vegas. WasteExpo is the leading event in North America for waste, recycling and organics professionals from the private and public sector.

The conference offers an interactive program that dives deep into vital industry topics such as recycling, landfills, fleet management, collections, organics, safety, food waste and recovery, and more. WasteExpo also boasts a robust Exhibit Hall showcasing 600+ exhibitors showcasing the latest industry solutions.

There are a variety of spotlight sessions, exhibitor promotions, and giveaways scheduled for this year's event. Here's a preview with some of the highlights:

Spotlights & Sessions
Adam Minter, Bloomberg Opinion Columnist and author, will deliver a spotlight session on the future of recycling and how retailers are leading consumers toward a future of recycling and reusing.
Representatives from the cities of New York and Los Angeles will present their insights on the future of fleet electrification.
Legislative Updates by Region: A panel of experts will present the latest on waste and recycling legislation and the impact of the 2020 election on the industry.
Open Forum
The Nothing Wasted! Open Forum will feature speakers who will share powerful industry ideas and perspectives to inspire action from their listeners.
Exhibitor Highlights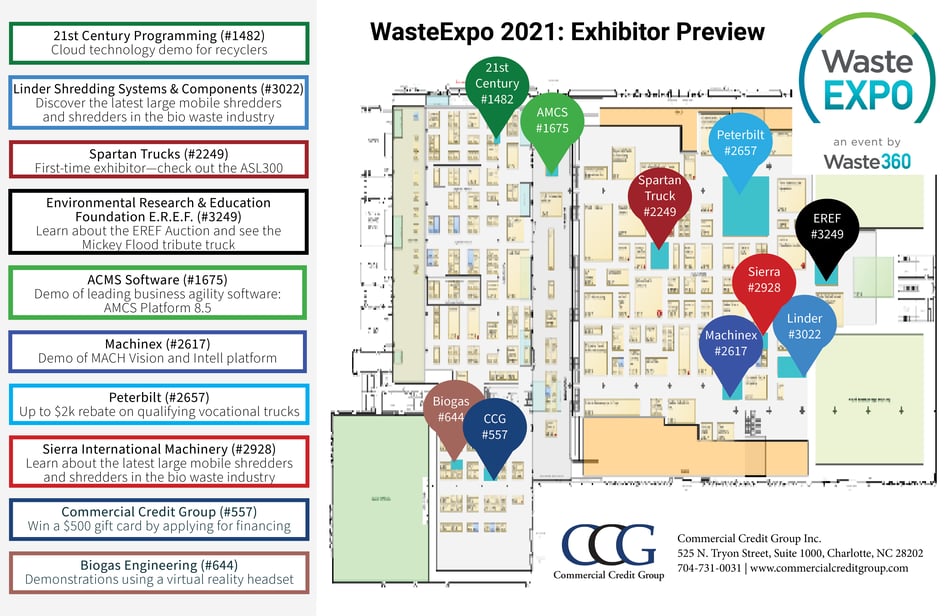 AMCS is a Tech Sponsor this year and will be demonstrating their market-leading enterprise-grade software platform that helps improve your over all operational efficiency. The AMCS team will be in the Platinum Sponsor section at Booth #1675.
Autocar will display the The Mickey Flood Tribute Truck adjacent to the Environmental Research & Education Foundation (EREF) Booth #3249. Autocar is donating a custom engineered, full-bodied severe-duty class 8 DC-64R to the 2021 Environmental Research and Education Foundation (EREF) Annual Charitable Auction in honor of Mickey Flood, the Founder of the IESI Corporation. Proceeds from the auction will support the EREF's scientific and educational initiatives for waste management practices.
Biogas Engineering is showcasing projects with Virtual Reality technology! If you need an engineering partner for an upcoming landfill, wastewater treatment plant, or dairy digester gas project, stop by Booth #644 to learn more.
Commercial Credit Group Inc. (CCG), an independent commercial equipment finance company, will hold drawings for all applicants for waste equipment financing during the month of June 2021. Entrants can win one of two $500 gift cards, and they will be awarded during the conference. Download the pre-approval application online or visit the CCG booth, #557, near the WasteExpo entrance at the registration area.
Lindner Recyclingtech America will be showcasing their latest size-reduction technology for the plastic, waste and paper recycling and other industries. Lindner also offers large mobile shredders and a line of shredders for the bio waste industry. The Lindner team will be at Booth #3022 near the food and beverage seating area.
Machinex, a waste and recycling technology manufacturer, will debut and demo the latest technology for two new products aimed at increasing sorting capabilities for secondary material handlers. MACH Vision and Intell use Machinex artificial intelligence to optimize plant performance and make data-driven decisions. Attendees can learn more at the Machinex exhibitor station: Booth #2671.
21st Century Programming will be showcasing their latest cloud technology for the industry, ROM Infinite Dispatch, at Booth # 148. The software provides a state-of-the-art tracking system that monitors drivers, equipment, and customer activity.
Would you like to earn up to a $2K rebate on a truck purchase? Peterbilt is offering a rebate on qualifying vocational trucks. Visit Booth #2657 to learn more.
Sierra International Machinery will be at Booth $2928 to share information on the latest equipment in the scrap and recycling industry, with a special focus on shredders for the bio waste industry.
Spartan Truck is showcasing a 31 yd. Spartan 300 ASL this year! Booth #2249.
Co-located Conferences
WasteExpo is co-located with the Waste360 Investor Summit, theWaste360 Healthcare Waste Conference, the Waste360 Business Leadership Forum, and Waste360 Sustainability Talks.
About WasteExpo 2021
After being canceled in 2020 and postponed from its originally scheduled date in April this year, the industry's biggest event, WasteExpo, is finally set to take place June 28-30 in Las Vegas.