When it comes to financing equipment, many companies use their local bank or credit union. Companies tend to have relationships with these institutions because they handle checking and savings accounts for them. However, equipment financing is far different from the traditional services that banks and credit unions offer, so it's a good idea to consider an alternative.
At CCG we think differently. For instance, we focuse on knowing our customers, their industries, and the equipment they employ with an objective of providing superior customer service. Our specialized focus on targeted industries and their equipment types has enabled us to provide customized financing solutions for each of our customers.
Bank or credit union Loan Requirements for Businesses - What They Look for In an Application
Typically, these institutions have a "box", or specific criteria for loan approvals. Oftentimes, they will rely on strict credit scoring and criteria that can disqualify a loan applicant right off the bat. If you don't meet all of their specific criteria, your deal won't get approved. CCG doesn't have a "box" of credit worthiness. CCG does not utilize credit scoring or actuarial models to evaluate all credit requests. Instead, we underwrite each loan and lease that we originate. We believe this allows us to develop closer relationships with our customers.
While banks and credit unions may get fixated on your past financial performance and statistics, we focus on 3 factors– character, collateral and cash flow.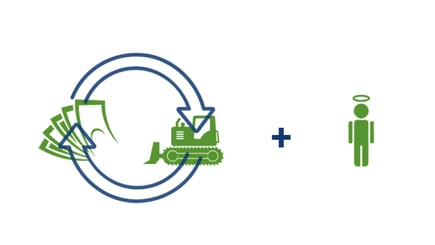 How to Qualify for a Business Loan With CCG - The 3 C's of Credit
Character
The first C we consider is character. At CCG a customer's character is evaluated based on references, payment history, industry reputation and level of cooperation during our process. We look at personal and business credit history that shows your responsibility to make payments. Your business or industry experience is also taken into consideration. This can be especially important when your business is a start-up or has a short credit history. Each CCG salesperson is an industry specific specialist who is familiar with the challenges your business faces every day. At CCG, in addition to reviewing your credit history, we evaluate character through the communication that you have with your salesperson and the rest of our staff. Good communication is a key to a lending relationship. If you've had credit problems in the past but are candid and explain what happened, why it happened and what you've done to resolve the situation then, many times we will evaluate the situation and the circumstances and find a solution that meets your needs. Likewise, if you happen to be in financial trouble down the road, we may be able to help you if you communicate with us when assistance is needed.
Collateral
The second C is collateral. The equipment you may be looking to finance is assessed based on value, industry application and marketability. Is it new or used? At CCG you will find our team is very familiar with the equipment that you use in your business. We also understand how the equipment fits into your operation. We understand the income potential of your equipment and evaluate the equipment in light of your business opportunities. The collateral is evaluated to determine quality and how it holds value in the context of your business, not just some generic model. Does the collateral cost include any "soft cost" such as tooling, extended warranties, transportation, training, etc.? Being a collateral lender, we understand that including some of those things can be important to the transaction but understanding how much to include is critical to the credit process. CCG recognizes that you also may have equity in your existing equipment which can be used to help structure a transaction that works best for you.
Cash Flow (Debt to Income Ratio)
The third C of credit is cash flow. When financial statements are submitted, we look at the debt-service-coverage ratio. One simple calculation is net income plus depreciation and other non-cash expenses, divided by the amount of equipment payments due over the next year. When the calculated ratio is over 1x, it shows you have enough cash flow to cover your existing equipment debt. Having debt service coverage ratio greater than 1x is almost always required by banks and credit unions. But, with CCG, we may be able to approve the loan using additional factors such as: additional collateral, a larger down payment and/or personal or corporate guarantees. We are industry specialists. Understanding the reason behind the purchase and the income potential from that purchase allows us to evaluate the complete picture with regards to cash flow and to include future cash flow, not just from the past. We believe that your financials should not be the only criteria used to evaluate your credit and should not by themselves cost you an approval.

We Are an Equipment Finance Lender THat Tries to Make It Work Best For You
Some lenders look solely at your credit score and financials and if they don't fit in the "box" the deal cannot be approved. Using our three C's, CCG looks for ways to make the deal happen. We look at your whole picture, consider a variety of transaction structures and provide you with options to obtain equipment and grow your business. We create tailored transactions that work best for you.