When companies consider financing the purchase of a new or used piece of equipment, the monthly payment amount can be critical. In many cases, the target amount of the payment is determined based upon cash flow needs or what the business can afford.
When determining how you will attain your target payment, you need to focus on two questions.
What factors affect the monthly payment?
What can you do to get close to the monthly payment amount you have targeted?
What Factors Affect the Monthly Payment?
There are three main factors used to calculate the monthly payment for a loan:
Interest Rate
Length of the Loan
Total Amount Financed
To decrease your monthly payment, you need to do one of the following: reduce the interest rate, extend the length of the loan, or reduce the total amount financed with a higher down payment. But which of these has the greatest impact?
Loan Term impact on Monthly Payments
"What is your interest rate?" This is typically the first question asked by prospective borrowers. However, as noted above, interest rate is only one component of the payment, and it's NOT the component with the greatest impact. The infographic below provides some calculations to show that term and principal have a much greater impact on your monthly equipment loan payment.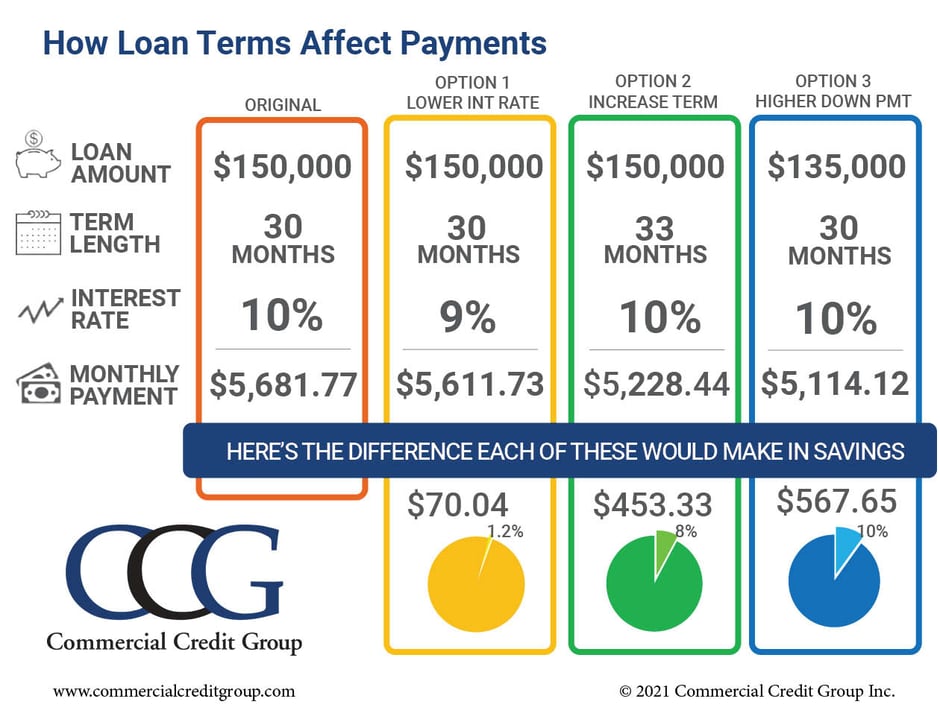 Option 1: Reduce the interest rate
Consider a $150,000 loan with a term of 30 months. If the interest rate is reduced by a full percentage point, going from a 10% to a 9% interest rate, the monthly payment is only $70.04 less per month.
Option 2: Extend the term
If you take the same loan ($150,000 loan with a 10% interest rate) and extend the term from 30 months to 33 months, payments are lowered by $453.33 each month.
Option 3: Reduce the principal loan amount with a higher down payment
If you take the same loan and reduce the principal by 10% with a higher down payment (decreasing the loan amount to $135,000), the savings is $567.65 each month.
Not all of these options may be available to every company. That's why you need a knowledgeable financing partner to put together financing that meets your needs.
refinance to lower monthly payments
Of course, the best time to evaluate your options is at the start of a loan or equipment purchase. However, it is possible to lower monthly payments on existing equipment loans by refinancing them. You may be able to extend the term of a new loan beyond your existing term length or make a partial principal paydown of the existing debt, substantially reducing your monthly payment.
Keep in mind that not all lenders are willing to refinance existing loans. Whether you're looking for construction equipment financing, manufacturing equipment financing, transportation financing or waste equipment financing, you will want a lender that understands your business and your equipment, is able to evaluate your existing equipment and the associated equity, and customize a loan to fit your business and cash flow needs.
Choosing the Best Equipment Finance Company for Your Business
When financing your equipment, you'll have the option to work with a bank, captive finance company or an independent lender. Each one of them has their advantages and limitations, so consider these when choosing the right lender for your business:
Banks can sometimes get you the best interest rate, but their limited equipment and industry knowledge oftentimes restricts them from lending to growing businesses or companies that are tight on cash during seasonal months. They often lack familiarity with the equipment you may be financing or how your business uses that equipment, thus not having the ability to truly customize a loan to meet your needs.


Captive finance companies are very knowledgeable about the equipment in your industry, but they will only finance their own brand. You won't have the option to consolidate your existing equipment loans with this type of lender unless all your equipment is made by the same manufacturer. Further, they are, at times, unwilling to refinance equipment they have already sold.


Independent lenders like Commercial Credit Group (CCG) have dedicated representatives in your industry that are able to recognize the value of your equipment and how you use it. This allows CCG to offer flexible equipment financing and debt consolidation loans for equipment from multiple equipment manufacturers.
CCG is not looking for cookie-cutter deals like a typical bank. Instead, we listen to your story and create a loan that meets the needs of your business. If you're trying to determine the best option for your equipment loan, we can evaluate your equipment, look at your business and provide options to help meet your goals.
For more information, or to see if you qualify, contact us today.